Eco-Friendly Denver Branch is Office of the Future
A forward looking approach is how Sprague Pest Solutions has built its business and advanced service quality and client satisfaction for nearly 100 years. That same approach now applies to the company's commitment to environmental stewardship.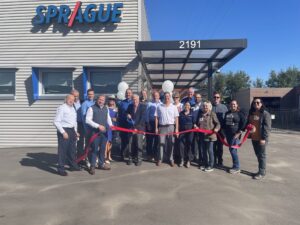 To that end, Sprague's newly opened Denver service center reflects the company's continued commitment to staying ahead of the curve and will serve as the model for future locations as the company expands its service footprint across the western United States.
The 7,000 sq. ft. service center was resurrected from an abandoned 1960s era warehouse in Denver's Lincoln Park neighborhood. The new facility, Sprague's third location since the company started serving the Denver-metro area in 2011, retained the exposed wood and brick architecture while adding advanced technology including 40 solar panels on the roof. The official ribbon-cutting took place on September 28.
The solar panels, which Sprague also added to its Boise, Idaho service center, reflect the company's long-term environmental stewardship pledge to lessen its carbon footprint through the construction or renovation of eco-friendly service centers. To complement its ecofriendly service centers Sprague is committed to, by 2026, having a vehicle fleet of 50 percent hybrid or electric vehicles and reducing rodent bait usage by 50 percent.
The revamped Denver office includes a state of the art training room fully equipped with surround-sound, two monitors, and an eat-in serving station. The office hosts 13 cubicles, three private phone booth working spaces, two offices and three conference rooms named after famed Colorado mountain peaks Pike's Peak, Mount Evans and Long's Peak.
"The new office operates almost completely off the electrical grid and will eventually pump electricity back into it," says Kolbin Bertilson, A.C.E., Sprague's Denver branch manager. "The design reflects a modern approach to workspace layout emphasizing functionality, flexibility and collaboration. It will set the bar for how future Sprague offices will be designed."
The expanded square footage in the facility will also allow Sprague to host local industry association and training meetings, as well as local community events.
Tacoma-based Sprague is the largest privately owned pest management company dedicated solely to the commercial market in the United States. It specializes in preventive and remedial pest management and food safety consulting services for leading food processing, agriculture, healthcare, and hospitality and distribution facilities.