Nowhere is pest prevention more critical than in health care
Pests have no business in health care facilities where there is a zero-tolerance for pests. These critical environments, which can attract a variety of threatening pests, require an experienced pest management partner who can deliver both preventive and curative pest management programs to protect patients and caregivers.
Pest Management in Health Care Facilities
By implementing pest management measures, healthcare facilities can prevent the spread of disease, protect the health and safety of patients and healthcare workers, maintain a positive reputation, and comply with regulatory requirements. Additionally, pest management can help create a clean and safe environment that promotes healing and recovery. Overall, pest management is an essential part of maintaining a safe and healthy healthcare facility.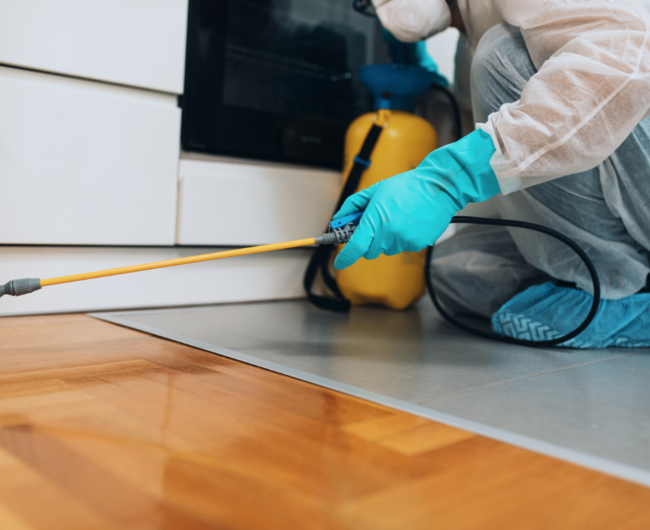 Our Approach
Rigorous, Thorough, Meticulous
Strategic Prevention
Reactive programs leave the door open to risk. We prevent complicated pest issues and partner with you to protect your business from potential threats.
Documentation
If it isn't documented, it didn't happen. Our reports include detailed inspection results and analysis of conditions or activity that could impact your program.
Smart Selection
We reserve the right to select the best possible products and services available. It's one of the advantages of being a service company, not a product company.
Communication
We start with real people having real conversations. Then back it up with versatile communication systems to give information when and how you want it.
Standards-Based
Our reputation has been built on consistently performing to the toughest standards in food safety, third party audits, customer requirements, federal agency and local government.
Sprague Solutions
Baits eliminate insect activity and reduce rodent pressure. Non-toxic baits can help us monitor rodent activity and be useful in sensitive situations.

Bioremediation is using natural bacteria to remove fats, oils, and greases. It's applied in hard to clean areas like drains, grease traps, wastewater pools, soda dispenser trays.

Our trained, certified bed bug dogs will sniff out bed bugs quickly and discretely. Then we'll follow up with a visual inspection by an expertly trained technician. One-time-only and ongoing inspection services are available in select markets.

This one sounds like a no-brainer, but trust the experts to do it right. Let us seal, screen, net and caulk potential pest entry points to keep them out of your place of business.

For some pests, we use industrial heaters to raise insects' body temperatures until they reach their thermal deathpoint. This method can be very effective in solving your insect issue without the use of chemicals.

Combined with longer-lasting prevention techniques, targeted insecticide treatments provide immediate relief for a wide range of ants, cockroaches, flies, spiders, stored food pests and wood destroying organisms.

ILTs are an efficient, non-chemical means to control adult flies. Providing 24-hour protection, they capture flies and prevent contamination of otherwise safe food and environments. Regular cleaning, glue board and annual lamp replacement ensure optimal year-round performance.

Sometimes, a minor repair is all it takes prevent a pest infestation. Make sure it's done right by calling the Sprague team to correctly seal, screen or caulk potential pest entry points to keep them out of your business.

Sometimes it's as simple as eliminating food, water or shelter to prevent pest activity. Sprague has a detailed understanding of pest biology, experience and creativity, so trust our team to work with you to stop pests before they jeopardize health, safety and property.

This is an excellent way to monitor for stored product pests. Our experts study trapped insects for early signs that a new pest has been introduced, and where in the facility they've been spotted. We'll then analyze and observe trends to anticipate and prevent seasonal increases and measure treatment effectiveness.

At Sprague, we pride ourselves on offering the very best, proven choices available on today's market. We're not a manufacturer or product-focused company, so count on us to recommend only the most effective, efficient and field-proven insect light traps, fly traps and other pest control products.

Audits for restaurants, food processors, and others; to evaluate areas that may need sanitation cleaning such as potential food and water sources for various pests.

Having an expert opinion is critical when food safety, money, customers and your reputation is on the line. For pest prevention across a wide range of industries, Sprague's got it covered.

Trapping is a highly effective method for getting rid of rodents and insects. With a keen understanding of pest behavior and biology, our Sprague specialists rely on an arsenal of traps to monitor or eliminate pest activity.

This option allows for the use of non-residual insecticides by means of a ULV generator. Sometimes called "fogging", the treatment is effective on exposed insects. Insect growth regulators are often applied in this manner.
What Our Clients Say
In our industry, response time is everything. Sprague is always so quick to respond to our requests.