Sprague's Environmental Stewardship Pledge
With rising fuel costs, increased urban congestion and a global push for greener solutions, it's vital for pest management and all service industry companies to take stock of their fleet's environmental impact and consider eco-friendly alternatives.
Governments (and consumers) are pushing for sustainable solutions when it comes to transportation, with some cities looking to establish clean air zones to help control carbon emissions in large urban areas.
Companies are taking the steps now to identify more sustainable vehicle alternatives, that will put them ahead of the curve in the sustainability movement. Sprague is one of the companies embracing the change.
Why is A Eco-Friendly Fleet Important?
Creating a eco-friendly, sustainable fleet program is one of the best contributions that can be made to help reduce the negative impacts on climate change. What impact do vehicles have on the environment? Here are some additional figures to consider:
In 2019, 29 percent of U.S. greenhouse gas emissions came from transportation, according to the EPA.
One gallon of gasoline produces around 20 pounds of CO2, meaning the average vehicle emits approximately 6 to 9 tons of CO2 per year.
Light-duty vehicle emissions in the U.S. create approximately 1.1 billion metric tons of CO2, which is 17 percent of all carbon emissions in the country.
Sprague's efforts to reduce its carbon footprint is a multi-pronged effort and includes not only deploying alternative fuel or hybrid vehicles, but improved route management and employee training and awareness.
The efforts will not only have a positive environmental impact for employees, clients and the communities Sprague services, but will lower long-term fuel and maintenance costs, and strengthen compliance with applicable emissions regulations that are becoming more common.
More On Sprague's Environmental Stewardship Pledge –  Rodenticide Reduction blog
Sprague's Eco-Friendly Fleet Strategy
Sprague is taking an ambitious approach to reduce the carbon footprint of its 300 plus vehicle fleet. According to Sprague President Ross Treleven, the company has set a goal of converting 30 percent of its fleet to hybrid or electric vehicles by 2023 and 50 percent by 2026.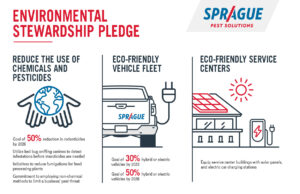 "It's simply the right thing to do for our employees and clients, for the communities we live and work in, and for the environment," says Treleven. "We have a social responsibility to make a concerted effort to lessen our carbon footprint and are determined as a company to make that happen."
Treleven says the company is off to a strong start and is already closing in on the 2023 30 percent goal a year early. How is Sprague doing it?
Buying Ford F-150 hybrid trucks for the company's 19 branch and operations managers. Thirty (30) are already in the field, about 10 percent of Sprague's fleet.
All company sales representatives drive either a hybrid Toyota Prius or RAV4 compact SUV. This puts another 10 percent of the fleet in line with the company's pledge.
The company has ordered 15 Ford F-150 Lightening all-electric trucks and hopes to take possession of the first truck later this year.
Ordering Ford Maverick hybrid pickups for route managers in Sprague's city branches including Seattle, Portland, Denver and Los Angeles. There are 10 in service currently with another 30 planned. In addition to their increase fuel efficiency, the Maverick is easier to maneuver in crowded urban areas that Sprague services.
Electric vehicles for the management team and charging stations at the company's Tacoma headquarters. Long-term plans call for adding charging stations for all newly constructed or renovated branches.
Discover The Sprague Difference
If you are looking for an environmentally responsible approach to pest management for your commercial property, connect with the Sprague pest experts at 800.272.4988.