Pest Management Solutions for Your Commercial Property
Multi-unit housing complexes can play host to a variety of pests that are not only a nuisance to residents but can negatively affect their health by spoiling food and triggering asthma and allergies.
Nate Cechman, branch manager for Sprague Pest Solutions' Seattle office, has serviced hundreds of apartment and condominium complexes working with property managers and residents to design and implement effective pest management programs.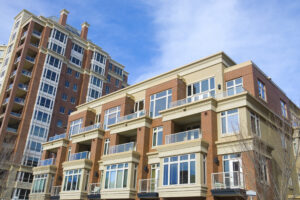 "A pest infestation in an apartment or condo complex can threaten an entire floor or building if nothing is done," says Cechman. "Keeping pests like bed bugs, rodents, flies and cockroaches in check not only creates a healthier environment for residents but helps keep rental values high and causes fewer headaches for property managers."
Pest Threats in Multi-Unit Housing
Unlike standalone homes, apartment buildings and condominiums have a shared weakness when it comes to pests. Adjoining walls and utility pipes or wiring, make it easy for pests like rodents and cockroaches to easily move between units above, below or adjacent to.
Pests can enter multi-unit housing buildings in a variety of ways. Excess moisture, plumbing leaks, messy dumpsters or recycling bins, open doors and windows, and cluttered common areas attract insects and rodents. Guest or resident luggage, package deliveries and furniture can introduce pests, like bed bugs, inside, and mice and rats in neighboring buildings can easily access a building through openings in a basement and crawlspace, the foundation and roof.
Cechman says the top pest impacting multi-unit housing complexes currently is the German cockroach. They are known for spending most of their time hidden and protected in wall and ceiling voids, behind kitchen and bathroom cabinets, inside appliances, in cracks between cabinets and walls, flanges under the kitchen sink, and in spaces between door corners and jambs.
These bacteria transmitting pests prefer warm and humid environments that are common to multi-unit structures including refrigerators and other heat-generating equipment (i.e., trash compactors in garbage rooms), under sinks, and around water pipes (i.e., hot water pipes provide warmth, cold water pipes provide water from condensation).
Right behind the German cockroach are rodents – rats and mice. Flies, clothing moths and Pharoah ants are also an issue multi-unit residents contend with.
Keys to Success
What is the key to success when it comes to delivering a successful pest control program in multi-unit housing complexes? Cechman says it is based on creating a partnership between the pest control service provider and property manager.
"The goal is to create an optimal living experience for residents that reduces the threat of pests invading their living space and threatening them and their families," says Cechman. "That starts with consistent communication from all parties involved and setting realistic expectations and timelines."
Pest management professionals, property managers and residents all contribute to a successful pest management program. Each unit is part of a larger ecosystem that is dependent on the other. If there is a breakdown in one unit, it will likely impact others.
All parties need to remember the following:
It is important to identify and treat "focus units." These units have high pest populations that keep infesting the units next door, above, and below. Focus units typically are cluttered, have poor sanitation, and refuse regular service.
Units that don't receive regular service often turn into focus units. That is why it is important for pest management professionals to have access to every unit.
When pest populations become large, service needs to be repeated every few weeks to achieve maximum impact. Timely rescheduling of service for missed units is critical – units can't simply be skipped.
Trash chutes, compactors, and trash rooms can generate large numbers of pests, particularly German cockroaches if not managed properly. Property managers need to pay particular attention to sanitation practices in these areas.
Achieving cooperation from residents means allowing access, preparing for service as directed, upgrading sanitation, and reducing clutter.
Property management can help their own cause by enforcing resident compliance, providing access (keys and cooperation), reporting problems, correcting structural deficiencies, and providing information to residents on best practices to reduce pest conducive conditions. Sprague provides property managers and residents with fact and prep sheets (translated in several languages) prior to facilitate this effort.
"It's about introducing the science of pest control and making sure property managers and residents know why the pests are there and what they can do to prevent them," says Cechman. "Our job is to make sure they know how critical their participation is in the process."
Discover The Sprague Difference
For more information on how Sprague Pest Solutions can assist you establish an effective pest prevention or management program in your commercial property, call 855.805.0755.