Pest Management Solutions for Your Business
"What gets measured, gets done." This bit of sage wisdom from long-time Sprague Pest Solutions executive Larry Treleven aptly describes the purpose and value QA audits afford food processing clients.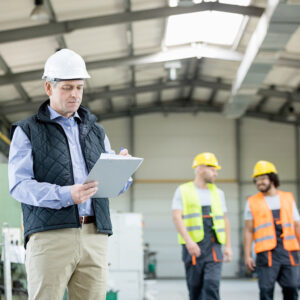 Internal QA audits play a key role in verifying and continuously improving pest management and food safety practices at food and beverage processing facilities. They also set the table in preparing for critical third-party audits and inspections.
The Sprague QA Audit Difference
With a dedicated internal team of QA auditors, a service most pest management companies do not offer, Sprague can help clients avoid complacency when it comes to their pest management programs.
Sprague's QA auditors – all of whom have experience performing food plant pest control services – provide another set of skilled eyes that view things from a unique perspective.
"We are there to ensure the pest management and food safety programs are continuously improving, answer questions and protect the client's brand, not make a sale," said Martha Branch, QA auditor for Sprague. "A good QA audit should be tougher than a real audit."
Regularly scheduled QA audits help ensure the pest management program meet and exceed the standards set by the client and third-party audit schemes. They keep facilities audit-ready and create a culture that emphasizes good pest management and food safety practices.
QA audits will help keep product moving off the production line and on to the shelves and tables of grocery stores, restaurants and school cafeterias so consumers can safe and nutritious food," added Branch.
What to Expect During A QA Audit
What can food processors expect during a QA audit? Branch said the process starts with a Sprague auditor interviewing the client regarding their pest management program and the technician performing the service.
The interview aims to identify the following:
Are there any current pest issues in the facility?
If so, are they being addressed in a timely fashion, and do we have the tools needed to solve the issue?
Are changes to the frequency or services included in the contract needed?
If there were any issues or concerns on previous audits, were they addressed and corrected?
"We know our food processing clients have a full-plate, so we aim to be efficient with their time," said Branch. "Once we conduct the interview, we can perform the audit in a timely fashion with minimal disruption to the client."
During the audit Sprague auditors perform a thorough inspection of the facility looking for conducive conditions – sanitation, structural, production practices, employee training, etc. – that could impact the performance of the pest management program.
Auditors will inspect pest management devices and make sure they are placed for maximum results. For example, areas where dried ingredients are stored should have stored product pest monitoring in their program.
Improper placement is an item auditors check for. Branch recalled an instance where a client installed an insect light trap over an open food commodity storage area – something the facility would have had points deducted for by a third-party auditor.
The audit also includes a thorough review of important documents including service contract, pest logbooks, device maps, insurance, SDS and product labels, allergen policies and organic facility requirements.
"A QA audit is done to ensure the pest management program is working as it should and that it meets all third-party audit standards by which the facility is being held to," said Branch. "We constantly update our clients if there are changes to the audit standards, so they are always current."
Common Audit Missteps
Perfection is the goal – if not a mandate – every QA and facility manager aims for when it comes to audits. Reality, however, does come into play. Human error and uncooperative pests can spoil an audit.
Branch, who worked in the food processing industry before joining Sprague, has participated in hundreds of audits in her career and has identified some common missteps that often trip up clients:
Not having an "always being audit ready" mindset and food safety culture.
Not having a sense of urgency when following up on corrective actions.
Not knowing your audit standards inside and out. It is critical to be familiar with the audit standards your facility is judged on.
Failing to ask the right questions of your staff and your pest management services partner as you prepare for an audit.
Not reviewing previous audit results and leaving open items that will draw the attention of auditors.
Waiting to the last minute to update and organize requested documents.
Offering too much information to the auditor. Provide what they ask for but nothing more.
Trusting but not verifying the information you are presenting.
Discover The Sprague Difference
If you are looking for an innovative pest management service provider for your commercial property, connect with the Sprague pest management experts at 800.272.4988.