Pest Management Solutions for Your Business
What are the rodent hot spots in a food processing and distribution facility that attract Norway and roof rats? Both species are attracted to areas such as dumpsters, open loading dock doors and overgrown vegetation.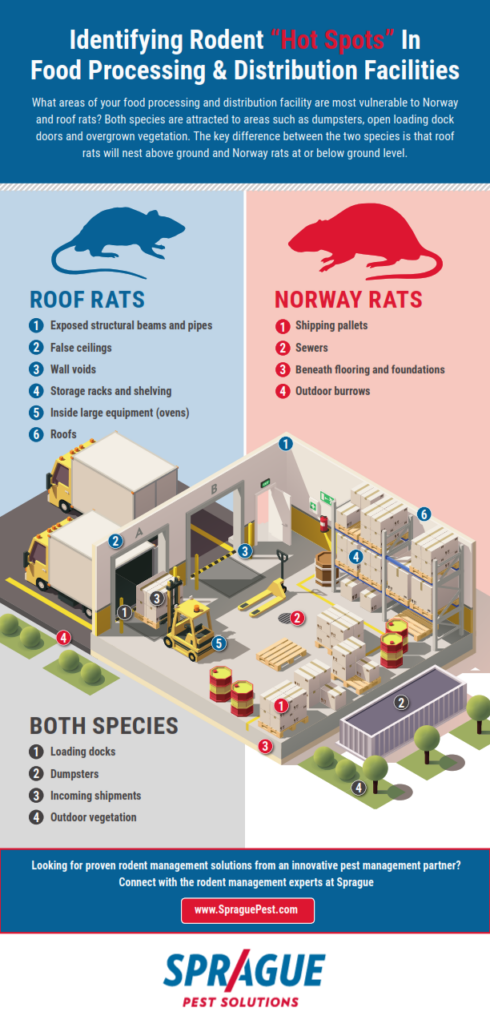 The key difference between the two species is that roof rats will mainly nest above ground and Norway rats at or below ground level. Rodent hot spots include:
Roof Rats
Exposed structural beams and pipes
False ceilings
Wall voids
Storage racks and shelving
Inside large equipment (ovens)
Roofs
Norway Rats
Shipping pallets
Sewers
Beneath flooring and foundations
Outdoor burrows
Both Species
Loading docks
Dumpsters
Incoming shipments
Outdoor vegetation
Using Technology To Win The Battle With Rodents
There was an instance where a Sprague service specialist was battling a rodent issue in a commercial property facility for a month with no luck identifying the source of the rodent's access to the five-story building's ground floor cafeteria.
Multiple snap traps were set to catch the rat but identifying how it was gaining access was critical to preventing future issues. Motion sensitive cameras were installed under counters in the kitchen and service areas to track the rat's movements. The cameras synchronized to a cell phone and would send an email with an image of whatever was setting off the motion sensor.
On the second day after the cameras were installed the Sprague QA and technical team received a photo of the rat coming down a support column with a decorative façade over it that ran directly into a steam table in the cafeteria.
The rat was accessing the column from the ceiling between the first and second floor where Sprague had found droppings. It was moving up and down freely in the wall void around the column and was feeding on built up food waste that was present in the steam table, kitchen and kitchen floors.
With the rat's entry point identified (and later sealed off), Sprague installed a gauntlet of snap traps in the ceiling and zip tied to the conduit above where the column went into the ceiling and the rat was caught the next day. To make sure the rat was a solo bad actor, Sprague left the cameras and traps in place for the next few weeks, but no other unwelcome visitors were spotted or caught.
By deploying the cameras Sprague was able to place a "service specialist" in the facility 24/7 in an area that can be hard to access (i.e., drop ceilings) and gather data. The camera image allowed Sprague to pinpoint its control efforts, and the result was a quick capture.
Looking for proven rodent management solutions from an innovative pest management partner? Connect with the rodent management experts at Sprague at 800.272.4988.