Sixty Percent of Sprague's Fleet Has Vanity Plates
What's in a name? Especially one that is limited to seven characters. A lot if it is one of the vanity license plates bolted to a Sprague Pest Solutions service vehicle.
The Tacoma-based company that is in its 96th year of providing exceptional pest management services to commercial clients, has a fleet exceeding 300 vehicles and more than 60 percent of them have a vanity plate.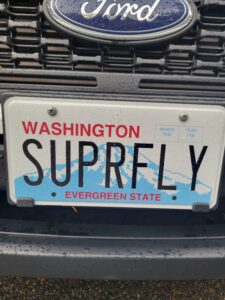 "It has taken on a life of its own," said Larry Treleven, vice president of Sprague, who joined the company full-time in 1971. "Not only has it proven to be a unique marketing tool, but it has turned into a source of immense pride for employees."
The company operates in 10 Western states and has vanity plates for its service vehicles which range from heavy-duty pickups to compact hybrids and a now a growing number of electric vehicles.
A Birthday Gift for Dad
The Sprague vanity plate tradition started as a birthday gift to Bob Treleven – Larry and CEO Alfie Treleven's father – from his children in 1972. That was the first year the state of Washington allowed vanity plates to be purchased by vehicle owners. The name on the first plate – BUGMAN.
"After driving around for a few weeks and receiving positive feedback he said, 'We might be on to something' and he ordered plates for the company's three other vehicles," recalled Larry Treleven. "He was quite proud of it."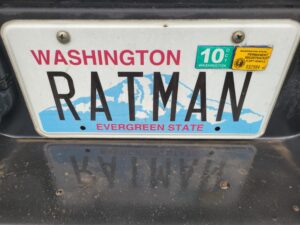 Today, BUGMAN adorns the service vehicle of Bob Treleven's grandson, AJ, Sprague's director of operations.
A Source of Pride
As Sprague's service footprint has grown to 19 service centers across the Western U.S. so has the demand for vanity plates and the need to be creative when producing names. There is a friendly competition among employees about their plates and they often request the plates be transferred when they receive a new service vehicle.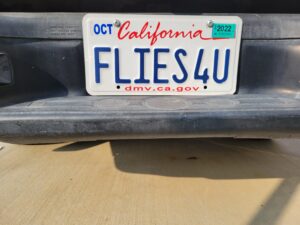 Employees choose from a list of names and Sprague submits the paperwork in each state and covers the costs. It is a sizable investment on the company's part, but one that is well worth it, said Treleven.
"Clients tell us all the time they love the creativity, and, in some cases, they'll remember the plate easier than the name of the technician," said Treleven.
"It has become a tradition that employees embrace. It is part of our heritage and the secret sauce that makes Sprague unique," added Treleven.
The Names Say It All
Sprague President Ross Treleven, a member of the fourth generation of Trelevens to lead the company, said the decades long commitment to the plates makes an often-overlooked item stand out.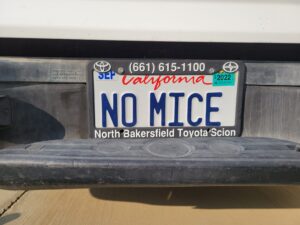 "People actually do pay attention to the plates, and we receive a lot of positive brand exposure from them," said Ross Treleven. "People have left me voice mails telling me they saw our BUGS4U vehicle working at an account, and they just wanted to say they thought it was cool."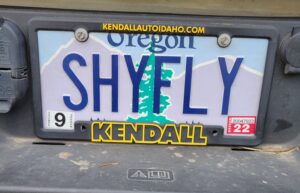 How creative are the vanity plate names? Here is a sampling of the current offerings:
RATMAN
NOMICE
RATBAIT
ADAMANT
ANTBAIT
MOUSEFRE
RAT4YOU
DRBUGS
ANTMAN3
BEEFLY
NOMICE
IPM4U
FLIES4U
BUGDUDE
BUGLESS
BUGUNOT
BEDBUG
SHYFLY
GOTBUGZ
Discover The Sprague Difference
If you are looking for an innovative pest management service provider for your commercial property, connect with the Sprague pest management experts at 800.272.4988.